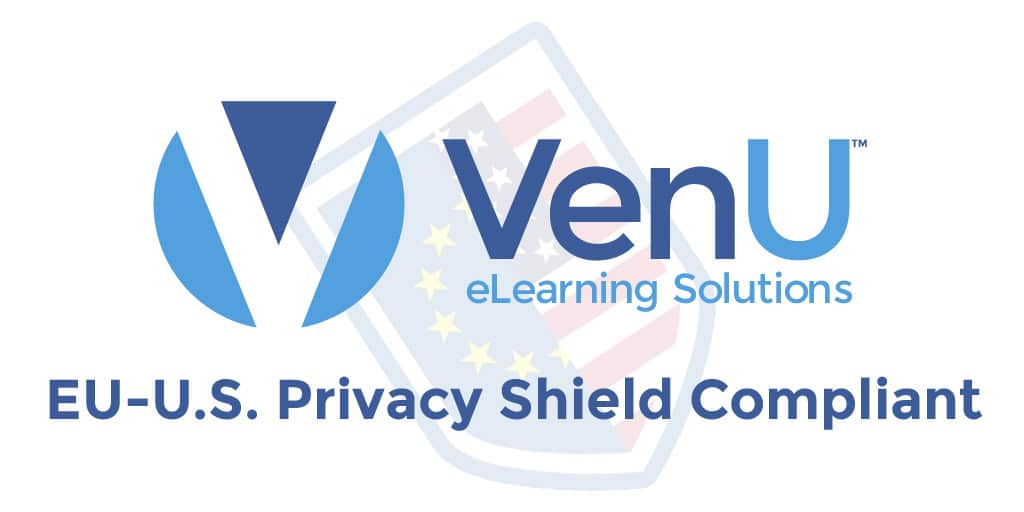 Due to its global client-base, VenU eLearning Solutions has elected to join the EU-U.S. Privacy Shield Framework. The program represents a joint effort on behalf of the U.S. Department of Commerce and European Commission to provide both U.S. and European-based companies with an opportunity to comply with EU data protection requirements when transferring personal data from the European Union to the United States or vice versa. A relatively new initiative, the European Commission confirmed on July 12 that the Privacy Shield Framework was adequate to enable data transfers under EU law.
"Ensuring the security of our clients' information has been one of our primary focuses for 13 years," said VenU CEO Tom Doty. "Given the volume of international business we conduct on a daily basis, we immediately recognized the value of this certification."
The Privacy Shield program is administered by the International Trade Administration (ITA) within the U.S. Department of Commerce. To join the Privacy Shield Framework, a U.S.-based organization must self-certify to the Department of Commerce and publicly commit to comply with the Framework's requirements.
Joining the Privacy Shield Framework is voluntary, however, once an eligible organization makes the public commitment to comply with the Framework's requirements, the commitment will become enforceable under U.S. law. VenU adds this certification to a list of internal security compliance measures that also includes ISO/IEC 9001 and 27001 certifications from American Global Standards.
For more information on the EU-U.S. Privacy Shield Framework, visit www.privacyshield.gov.
About VenU eLearning Solutions: Founded in 2003, VenU develops and hosts Learning Management Systems (LMS) for publicly traded and privately held corporate enterprises –providing both Channel and Talent Management solutions.