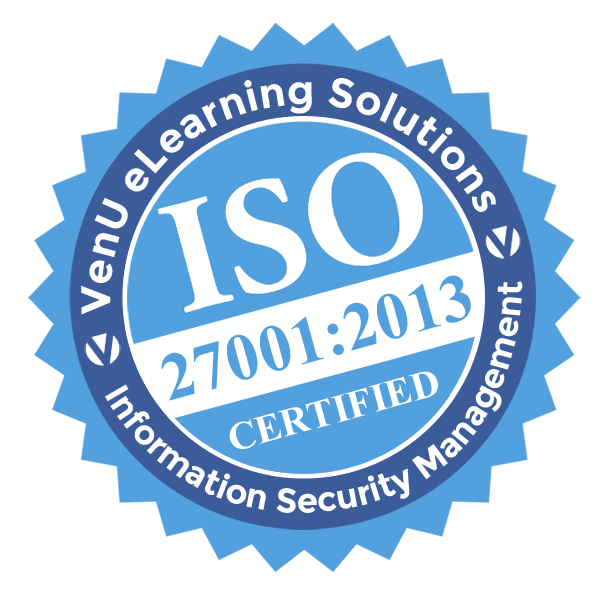 VenU, LLC, is proud to announce that it has received the International Organization for Standardization (ISO) and the International Electrotechnical Commission (IEC) 27001 Certification for its Information Security Management System (ISMS) from American Global Standards.
VenU is fully aware that the data contained within your learning management system is among your organization's most vital assets. Ensuring the security of our clients' information has been one of our primary focuses for over 11 years, and it is our hope that pursuing ISO/IEC 27001 Certification will demonstrate to you our commitment to ongoing development and maintenance of a robust ISMS- which will be regularly audited and certified by an independent, third-party.
What's Included/Covered in 27001:
Determine the extent of conformity of the ISMS with ISO/IEC 27001 standard(s).
Evaluate the capability of the Information Security Management System to ensure compliance with relevant statutory, regulatory and contractual requirements, as applicable.
Evaluate the effectiveness of the Information Security Management System in meeting its specified objectives.
Evaluate the operational control of processes, including internal audits and management review.
Evaluate the management's responsibility for the company's policies.
Evaluate the links between the standard requirements and the Information Security Management System requirements.
Identify areas for potential improvement of the Information Security Management System.
We are pleased to report to you that VenU passed all areas of the American Global Standards audit without exception.
Key Benefits:
ISMS will be regularly audited and certified by an independent, third-party.
The process includes a thorough inspection of VenU's people, processes and IT systems by applying a risk management process and conducting an extensive internal audit.
Ensures that VenU has a comprehensive security strategy in place to properly address the concerns of our clients.
Demonstrates that VenU has designed and implemented a reliable system of controls to ensure the security of your organization's information.
We consider it a privilege to serve as your LMS provider and consistently look for opportunities to enhance our services. Our newest certification underpins VenU's dedication to quality, its processes, and continuous improvement.
About American Global Standards: American Global Standards is accredited by the American International Accreditation Organization (AIAO), one of the most widely accepted international ISO accreditation bodies. Certifications of an environmental or quality system received by American Global Standards are recognized internationally.