VenU is excited to announce that it has been selected to provide the training platform for one of the world's largest hydro power plants. The Itaipú Binacional hydro power plant is the result of a partnership between the governments of Brazil and Paraguay.
The Itaipú Binacional is the single plant that has produced the most energy in history: more than 2.8 billion Gigawatts-hour since 1984. Furthermore, with 14 GW, the plant is the second largest hydropower plant in the world in terms of installed capacity. Each of the 20 generating units has the capacity to power a city of 1.8 million inhabitants. The dam reaches a height of nearly 200 meters and is eight kilometers long.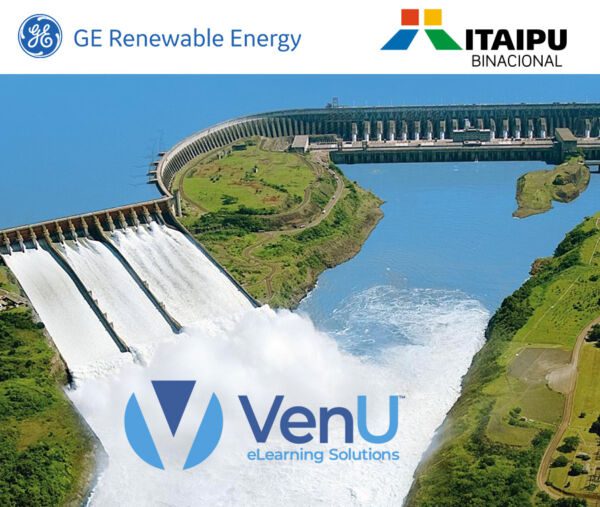 "We are extremely excited to be part of the modernization of this national treasure. Together with our partner, GE Renewables, we will deliver training to help support the Itaipú modernization consortium, which will ultimately help provide clean energy transition and decarbonization in South America," said Thomas Doty, President & CEO, VenU eLearning Solutions.
The project, considered the largest technological upgrade of the hydro power plant since its inauguration nearly 40 years ago, is expected to take 14 years and is primarily aimed at updating Itapúa's technology. The upgrade includes equipment and systems of all 20 power generating units as well as the improvement of the hydropower plant's measurement, protection, control, regulation, and monitoring systems.
PRESS RELEASES:
https://www.ge.com/news/press-releases/ge-renewable-energy-signs-contract-for-largest-technological-upgrade-of-itaipu-hydropower-plant-brazil
https://www.ge.com/news/press-releases/ge-start-modernization-one-worlds-largest-hydro-power-plants
https://www.gepowerconversion.com/news/ge-start-modernization-one-worlds-largest-hydro-power-plants
RELATED ARTICLES:
https://www.hydroreview.com/world-regions/ge-to-start-modernization-of-14-gw-itaipu-hyd